So, all that amazing work I accomplished yesterday has left me battling Sciatica today! Oy, the pain is so much fun, NOT!
Taking the down time to catch up on my Blogline postings.
While on SuzyQ Scraps blog I read about this new food site
www.blogchef.net
I am thinking I just might have to try these Pumpkin Brownies. What could be better than having 2 favorites in one bite....pumpkin & chocolate?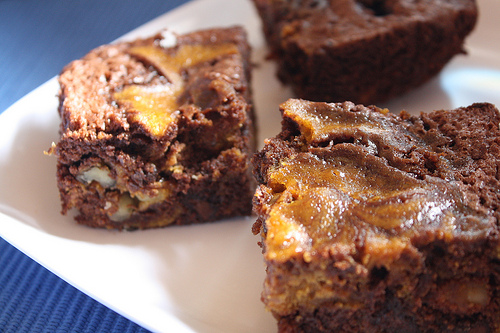 Ingredients:
¾ cup all purpose flour
½ teaspoon baking powder
½ teaspoon salt
¾ cup butter (melted)
1 ½ cups white sugar
2 teaspoons vanilla extract
3 eggs
¼ cup cocoa powder
½ cup semi-sweet chocolate chips
½ cup pumpkin puree
½ cup walnuts (chopped)
¾ teaspoon cinnamon
½ teaspoon ground cloves
½ teaspoon nutmeg
Step 1: Pre-heat the oven to 350 degrees and line an 8×8 inch baking dish with aluminum foil. Lightly grease the foil. In a bowl combine flour, baking powder and salt.
Step 2: In a separate bowl mix together melted butter, sugar, and vanilla. Beat in the eggs (one at a time). Add in the flour mixture, a little at a time and stir until the batter is evenly moistened. Divide the batter in half evenly into 2 separate bowls.
Step 3: In one of the bowls blend in the cocoa powder and chocolate chips. In the second bowl of batter stir in pumpkin puree, walnuts, cinnamon, cloves and nutmeg.
Step 4: Spread ½ of the chocolate batter mixture into the bottom of the baking dish. Pour ½ of the pumpkin batter mixture over that. Repeat the layers, ending with a pumpkin layer. Drag a kitchen knife or spatula through the layers in a swirling motion creating a marble appearance.
Step 5: Bake in the oven at 350 degrees for 40-45 minutes or until a toothpick inserted into the center comes out clean. Cool and cut into squares.